ZERO Centurion® MIL-Spec Series Aluminum Cases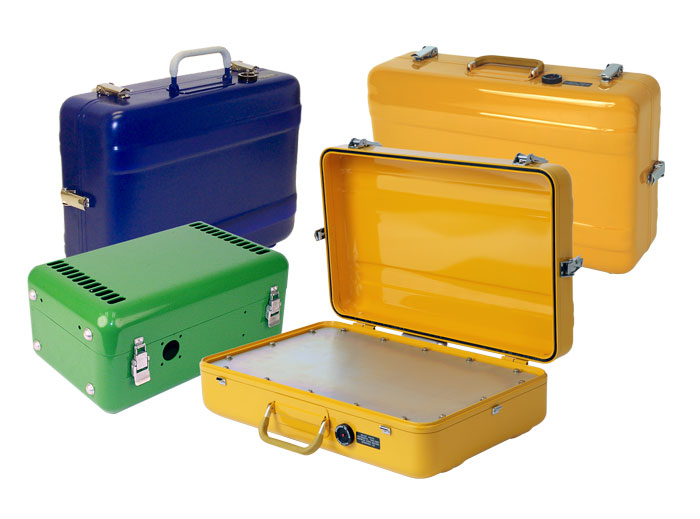 ZERO's Centurion® MIL-Spec Cases are available in a variety of heights, finishes and with a choice of closures, and three different panel mounting flanges. For the ultimate in lightweight, watertight carrying instrument cases, the MIL-Spec series features deep drawn, heat treated aluminum case shells with wrinkle-free surfaces, accented by distinctive styling beads. Sturdy and durable, Centurion MIL-Spec cases are strong enough to stand on, yet are ultra lightweight and rugged enough to protect instruments and your valuables from the elements.
Standard Features include:
Available in 10 standard sizes.
Case Shells are watertight construction of deep drawn seamless shells.
Gasketed Closures feature interlocking tongue and groove extrusion of 6063-T1 aluminum, permitting maximum sealing and alignment of two halves.
Options:
Custom Case Height.
Choice of Closures, Latches and Handles.
Instrument Panels.
Choose from three Panel Mounting Flanges.
Flexibility for Customized Applications:
Separable Hinges to remove upper case shell or cover.
Colors: Clear anodize, light gray, yellow, strata blue, olive drab or special order.
Panel Fabrication: Silk-screening, engraving, custom fabrication.
Case Marking: Stenciling, designation printing, decals, labels.
| | | | | | | |
| --- | --- | --- | --- | --- | --- | --- |
| Item # | Item Name | Outside Width | Outside Length | Inside Minimum C | Inside Maximum C | |
| Z100P | Centurion® MIL-Spec Z100P Case | 9.00 in | 12.00 in | 2.50 in | 3.36 in | REQUEST A QUOTE |
| Z101P | Centurion® MIL-Spec Z101P Case | 9.00 in | 16.00 in | 2.50 in | 5.56 in | REQUEST A QUOTE |
| Z103P | Centurion® MIL-Spec Z103P Case | 13.00 in | 18.00 in | 2.50 in | 5.91 in | REQUEST A QUOTE |
| Z105P | Centurion® MIL-Spec Z105P Case | 13.00 in | 21.00 in | 2.50 in | 4.06 in | REQUEST A QUOTE |
| Z106P | Centurion® MIL-Spec Z106P Case | 17.00 in | 21.00 in | 2.78 in | 4.81 in | REQUEST A QUOTE |
| Z109P | Centurion® MIL-Spec Z109P Case | 18.00 in | 26.00 in | 2.38 in | 7.31 in | REQUEST A QUOTE |
| Z112P | Centurion® MIL-Spec Z112P Case | 18.00 in | 24.00 in | 2.78 in | 4.81 in | REQUEST A QUOTE |
| Z114P | Centurion® MIL-Spec Z114P Case | 17.00 in | 18.00 in | 2.31 in | 4.36 in | REQUEST A QUOTE |
| Z129P | Centurion® MIL-Spec Z129P Case | 20.00 in | 29.00 in | 2.78 in | 5.02 in | REQUEST A QUOTE |
| Z132P | Centurion® MIL-Spec Z132P Case | 19.75 in | 8.50 in | 2.50 in | 2.91 in | REQUEST A QUOTE |